Twinbond bonds facade panels Vaccinopolis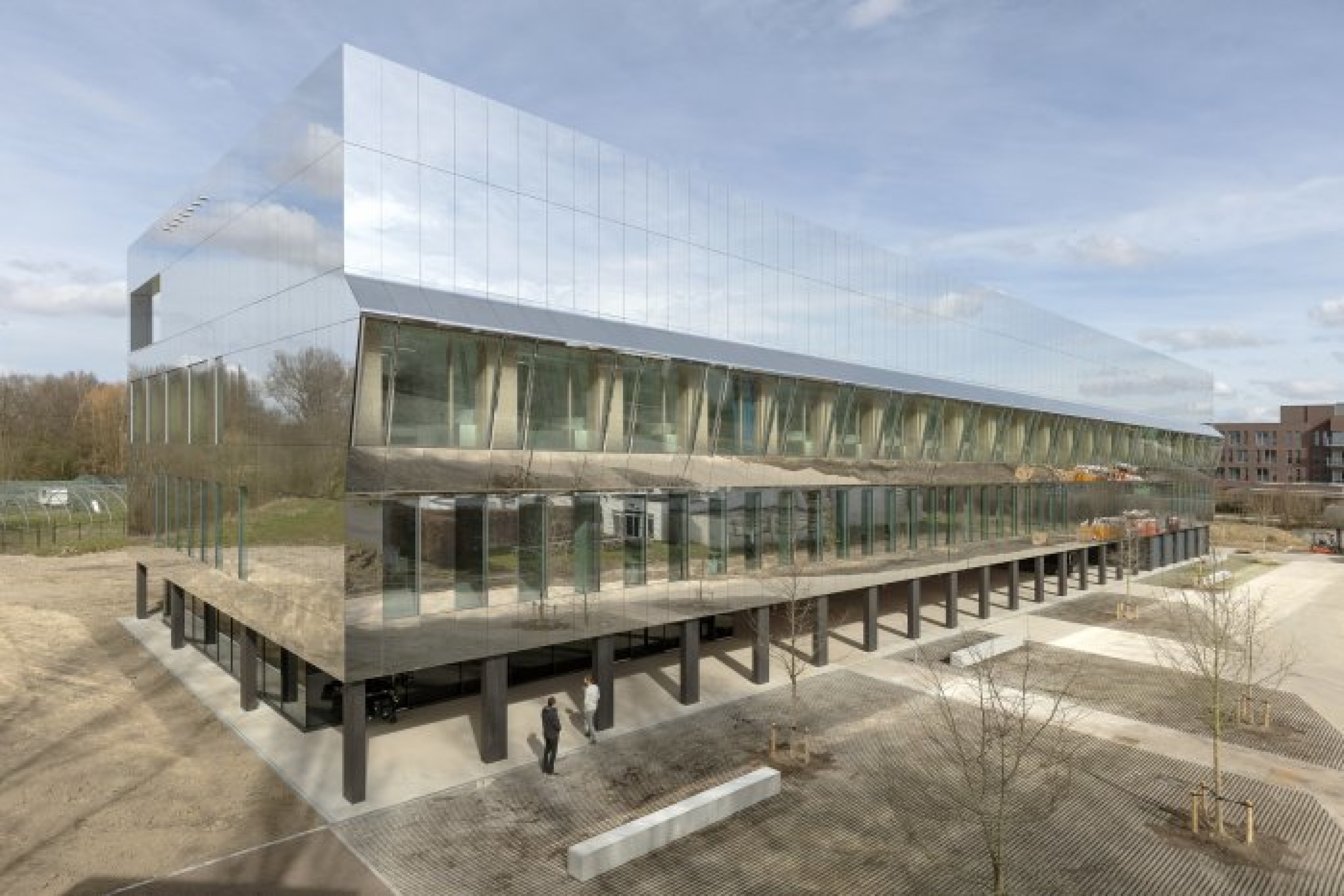 On 1 March 2022, Vaccinopolis, the brand new vaccine research centre of the University of Antwerp, opened its doors. The centre will enable vaccines to be tested more quickly and efficiently in the future and will help to combat and prevent the spread of disease. The futuristic design consists almost entirely of façade panels, which create a true mirror effect. Limeparts-Drooghmans opted for adhesive fixing of the façade panels, a choice that is not accidental. An invisible mechanical fixation on top of a structure with a minimum thickness of 105 mm would increase the tension on the curved Alucobond panels.
For bonding, Limeparts-Drooghmans chose to cooperate with Twinbond. Their products not only excel in their simplicity, but they are also perfect for prefabricated processing off-site.
One adhesive for each type of façade panel
The design included both curved and flat façade panels, which vary greatly in size. TwinBond Panel is a universal construction adhesive suitable for every type of façade panel. Moreover, because of its unique permanently elastic properties, it is certified for bonding panel dimensions of unparalleled sizes.
In this project, an aluminium substructure was also chosen. For this kind of construction, the right preparation is crucial. "To bond panels of such size to aluminium, it is very important to prepare the substrate properly and to choose an adhesive that can absorb tension and vibrations in the façade. This prevents deformation or, in the worst case, the detachment of one or more panels. Twinbond Panel, thanks to its permanently elastic properties, is the ideal solution for this", says Frederik De Kegel, Business Developer at Twinbond.
Simplicity and versatility prevail
The choice for Twinbond is not only based on the quality of Twinbond Panel, but also on the philosophy behind the company. "The quality of the product is obviously priority number one for Limeparts-Drooghmans. Twinbond combines quality with simplicity, versatility and reliability, points that we always put forward in every project," says Sven Drooghmans, Managing Director of Limeparts-Drooghmans.
"Twinbond has a very small, but versatile range. Our products are extremely versatile, which makes it very easy for the installer. We have a solution for every type of façade panel with a minimum of products," says Frederik De Kegel.