TwinBond SFA-100 SIP 2K Fast
REINFORCING IMPREGNATION FOR FACADE PANELS
Short drying time
For most fibre cement boards
Elastic
Moisture and chemical resistant
Description
Universal 2-component synthetic resin-based reinforcement for fibre-cement façade panels. SIP 2K Fast is easy to apply by brush or roller and guarantees a strong, durable bonding surface.
Packaging
550326924 - TwinBond SFA-100 SIP 2K Fast - 1kg
Technical information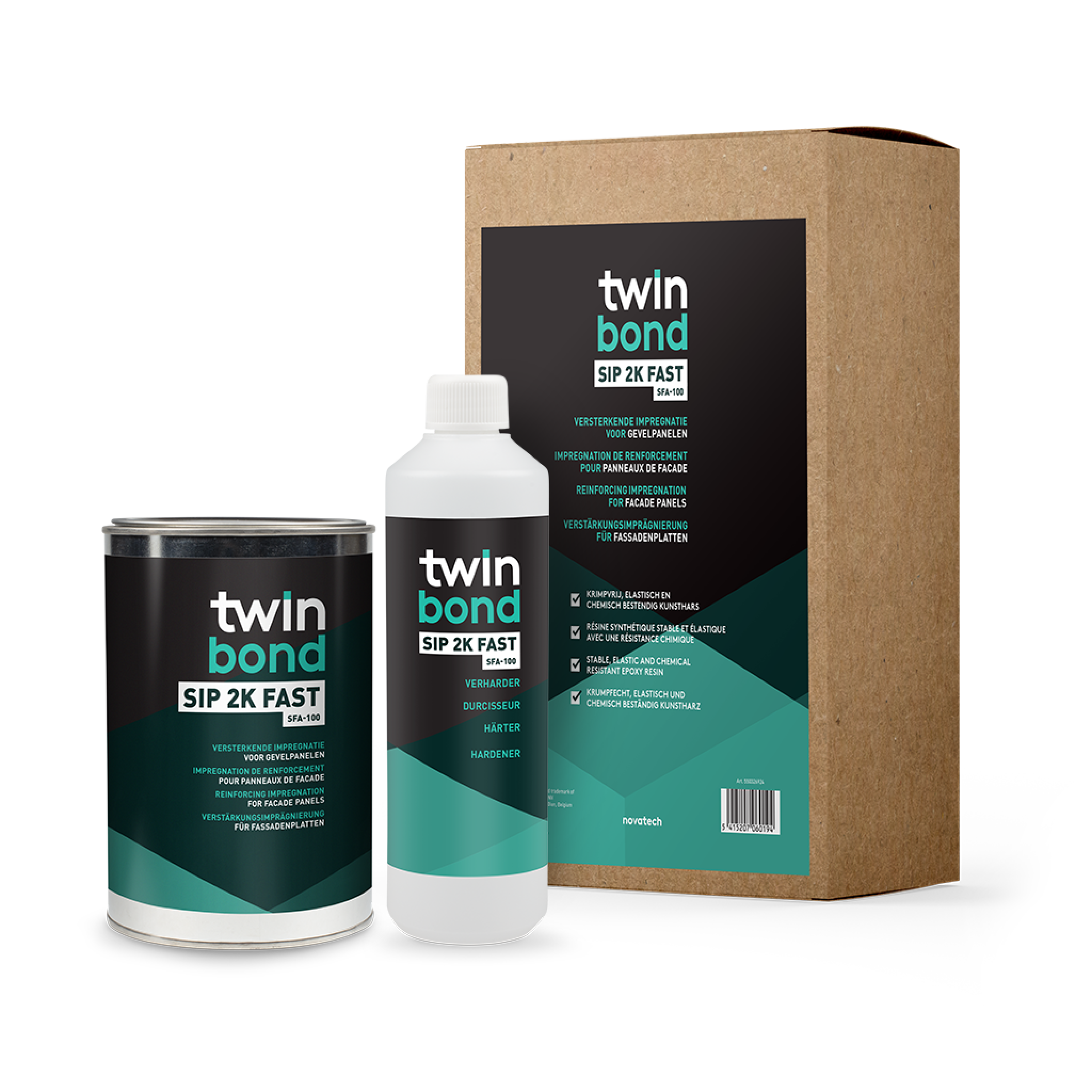 TwinBond SFA-100 SIP 2K Fast
REINFORCING IMPREGNATION FOR FACADE PANELS
Technology: 2K epoxy.
Colour: light yellow transparent.
Density at +20°C: 1.07 g/cm³.
Application temperature: between +5°C and +40°C.
Flammable: no.
VOC: < 30%.
Consumption: 3m²/kg.
Shelf life: 12 months, dry, cool and frost-free in original closed packaging.
Instructions
Mix A and B components completely to a homogeneous mass. For small applications, carefully mix 2 volume of A component with 1 volume of B component.
Process within 30 minutes after mixing.
Apply on clean and dry surfaces with roller or brush.
Minimum processing temperature: +5⁰C.
After at least 2 hours, test the curing by using TwinBond Tape. If the tape adheres sufficiently, the treated surface is ready for bonding.
Full chemical resistance after 7 days.
Technical documents
Safety data sheet
Technical data sheet