TwinBond WIP-340 Wall Impregnate
COLOURLESS HYDROPHOBIC COATING
1 coat for 25 years of protection.

Can be applied vertically as well as horizontally.

Even for stone strips with low absorption value.
Description
With exceptional penetration, allowing even stone stris with very low absorption values to be treated.
Prevents green deposits and moss growth on façades. Reduces dirt adhesion for easier façade maintenance. Strong reduction of salt efflorescence.
Consumption +/- 60 m2 per 10 L depending on the porosity of the substrate.
Packaging
550329924 - TwinBond WIP-340 Wall Impregnate - bucket 10L
Application
Hydrophobic treatment of stone strips , sand-lime brick, concrete stone, brick and mineral plaster.
Post-treatment of ETICS system.
Treatment of facades after cavity insulation.
Technical information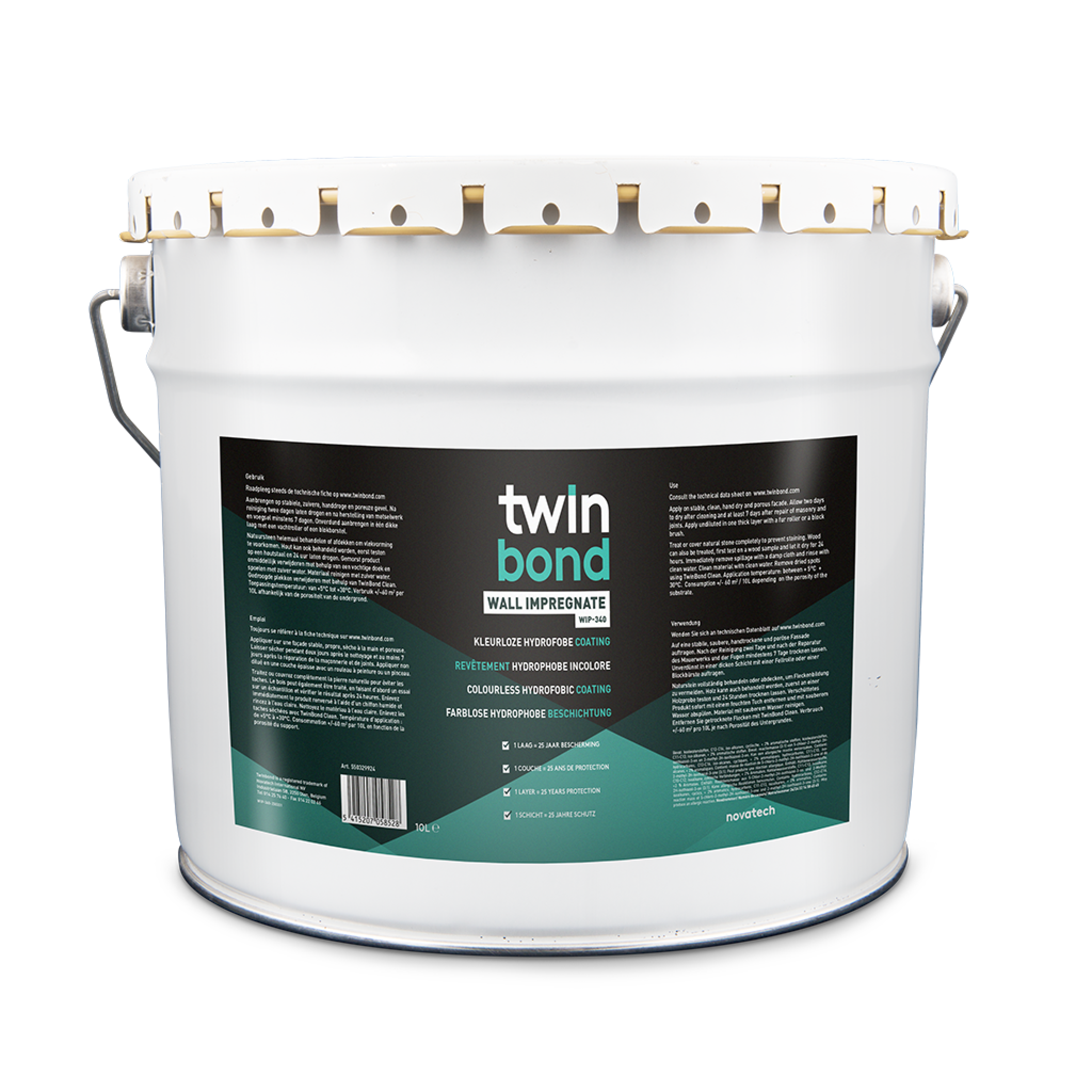 TwinBond WIP-340 Wall Impregnate
COLOURLESS HYDROPHOBIC COATING
Basis: water-based silane emulsion.
Consistency: gel.
Color: white / yellow-white when applied, transparent after penetration.
Relative density: 0.83 (+/- 0.02).
Solid content: +/- 25%.
Application temperature: + 5°C / + 30°C.
Rain resistant: after full curing (+/- 30 minutes).
Shelf life: 12 months, stored cool and dry in original packaging.
Instructions
Apply to stable, clean, hand-dry and porous facade. Allow to dry for two days after cleaning and at least 7 days after repairing masonry.
After applying grout, wait at least 7 days before hydrophobising.
Apply undiluted in one thick layer with a coat roller or block brush.
Treat or cover natural stone completely to prevent staining. Wood can also be treated, first test on a wood sample and allow to dry for 24 hours. Remove spilt product immediately using a damp cloth and rinse with clean water. Clean material with clean water. Remove dried spots using TwinBond Clean.
Technical documents
Safety data sheet
Technical data sheet